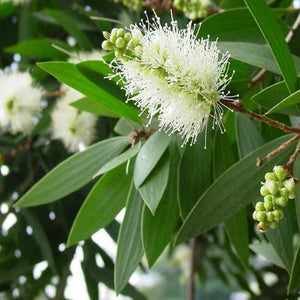 Cajeput Essential Oil
Botanical Name: Melaleuca cajeputi
Steam distilled from the leaves and twigs

1,8-Cineole: 59.4% - the cool terpinols that help dye release!

Scent: similar but less medicinal than tea tree oil; bright and slight fruity.
Blends well with cedarwood, clove bud, labdanum, origanum, rosemary and thyme.

Properties: antiseptic, anti-microbial, analgesic, anti-neuralgic, antispasmodic and insecticidal.
Use: Added to henna paste to break down the henna plant cellulose, which gives you a better lawsone dye release. Please don't add more than 15ml essential oil per 100g of henna powder. Without a proper carrier oil, essential oils should be limited.
Can also be used for aromatherapy. 
Do *NOT* diffuse essential oils if you own a bird! The molecules are too small & can coat the alveoli of the lungs, causing pneumonia.

Precaustion: there have not been any studies concerning using cajeput essential oils during pregnancy.  Thus, cajeput is neither on "safe during pregnancy" nor "avoid during pregnancy" lists. In the properly diluted amount of <15ml per 100g henna powder, there should not be an issue... But for liability sake, I will list here to avoid using on pregnant women. 
Best Henna Supplies!
I have been purchasing my henna cone supplies from Lisa for years now. The quality and pricing are incomparable to other vendors! Lisa is always so quick to reply to emails and ships the items right away. Oh I also absolutely love the packaging and always look forward to the yummy candies! Thank you Lisa for helping me run my henna business with your products!
---